History of Caroline Mariah Wayman Newman
by her daughter, Elizabeth Mariah Wayman (Hutchinson)
re-typed by Adele Newman Knudson, June 2005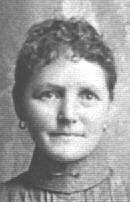 Caroline Mariah Wayman was born 25 January 1857 in a one-room log house in the old Nineteenth Ward in Salt Lake City. This house was on the Knowlton Farm near the Warm Springs, and directly across the street from Captain Hooper's large home. Her father was Emmanuel Wayman and her mother Margaret Johnston (Finlayson) Wayman.  She was her father's oldest child, her mother's third girl.
During her first fifteen years she lived with her father and mother in eleven different homes in Salt Lake City, Wooley's Sawmill, Little Cottonwood Canyon, and where her father could find work.  While at Cedar Fort, the soldiers came hunting the Indians who had killed the two young boys of Bishop Weeks. The Indians had cut the heart out of the older boy because he had been so brave.  Here Caroline and Cecelia were sent to find the two oxen. Buck and Brandy, who had strayed off among the cedars. The girls were so afraid the Indians would come and find them, Brandy had a bell on so at last they found them, and drove them home.
Here the girls started to school and were punished for chewing pine gum in school.  The teacher tied a string around their necks to punish them.  Here the Indians often came asking for bread and the children had to at bran bread so the Indians would not make trouble because their mother had no white bread.
At Provo Bench they took care of a farm.  At Weber they lived on an old farm near old Morris town, on the Weber River.  Here at the time her brother was born her father killed a rattlesnake on the medicine box on the all. Here Caroline had to carry drinking water a long distance from a spring.  While living at Huntsville, her grandparents James and Martha Wayman, also her uncle Robert and aunt Mary came from England.  Mary married William McKay.
A man named Swaner persuaded her father to farm his place in Holladay.  While here he purchased the land where they finally lived the rest of their lives. When they left Huntsville, her father drove the team and wagon with their household goods. Cecelia helped her mother bring the younger children on the train. Caroline and Charles drove the cows and calves and walked bare foot all the way to Holladay.  One night it snowed so they had to sleep under the wagon.  After living at Swaner's, they moved near the mouth of  Emigration Canyon. Here they grew a large patch of watermelons.  When they were ripe, the Indians came and demanded some of the largest melons.  Their last move was back to Holladay to the land they had bargained for on Casto Lane. Grandmother Wayman never complained at all this moving, but said she had been "well appointed."  She helped her husband in the garden and carried wood and water.  She taught her daughters how to work.
When Caroline was fifteen years old, she went to work for Isaac Brockbank.  Here she worked for 18 months at $2.25 a week.  The 25 cents was to be taken out in sewing.  She worked at Clayton's for a month and then at Jenning's Store for a while.  Her next job was over the Jordan River at the home of Stephen B. Rose.  Here she kept the house, did the cooking, washing, ironing and mending for Mr. Rose and his teen-age son, Peter.  They had a large house with bedrooms upstairs.  She worked here for 2 1/2 years at $3.00 a week. When she came home for a rest, Cecelia went to work for Mr. Rose.  While there, Cecelia met Joseph Hanson, whom she married.  While Caroline was at home that winter, she went to school at William Walker's. Martha Moses was the teacher, and Caroline learned to read and write.  It was the last schooling she had.
At the dances and parties in the Big Cottonwood Ward she met James Newman and later, his brother Thomas.  James was tall, red-haired, and good-looking.  Thomas was shorter, blue eyed and light brown hair.  Caroline was five feet, six inches, with dark curly hair and very dark hazel eyes.  Both men wanted to "keep her company".  Thomas called for her to go to a dance. He was driving a span of mules hitched to a heavy wagon. He had a spring seat in front and a board with a quilt folded over it, in the back.  Cecelia and James were both going, too.  Thomas said, Mariah, you come and sit up front with me".  Later James accused him of trying to steal his girl.  One day Thomas said, "If I don't come to see you, will you go with James?"  Caroline Mariah said, "No, I do not care to go with James."
Thomas and Caroline were married 14 May 1876, and went to live in the three-room adobe house that Thomas had built. He and James had made enough adobes for two houses alike.  Thomas built his house first before he was married, and James lived with them until he got his house built.  Their land was on the County Road north of 62nd South.
Thomas farmed in the summer and hauled ore from the mines in the Canyons to the Murray Smelters in the winters. Caroline had five boys–Reuben, Joseph, William, Albert, and Howell–before I, Elizabeth Mariah, as born.  Margaret Ann was the second girl.  When she was sixteen months old, Thomas went on a mission to England.  Mother's uncle, Billy Johnston, came to live with us to help the boys with the farm work while father was gone.  Mother was a very efficient woman.  Besides being a good housekeeper and good cook, she made all our clothing, knit the stockings, made the quilts and did lovely crocheting.  She was frugal and saved all the old clothing, which she cleaned, cut, and sewed into balls of carpet rags, which she took to the weaver and had made into carpets for the floors.  Mother was quick, clean and thorough.  She kept a large herd of cows and made and sold over forty pounds of butter each week while father was gone.  She had a good flock of hens and sold dressed chickens, eggs and butter to regular customers in the city each week.  She and the boys picked and sold fruit from the orchard and berries and vegetables from the garden. Each year there was a good supply of dried fruits and vegetables from the garden and jams, jellies, and preserves.  Pits lined with straw from the threshing were filled with apples, pears, potatoes, carrots, parsnips, and were well covered with straw. They were packed down with soil and were ready for winter use.
After father returned from England, Ethel Cecelia was born.  Later, twin girls, Florence and Gertrude, were born but died shortly after birth.  Jay Clarence was the youngest in the family. In 1902, father purchased eight and a half acres of land down in Holladay on the Boulevard, south of 45th South.  Here they built a large red brick house.  They planted fruit trees and some walnut trees, with some evergreens west of the house.  In the field there was a large garden tract with large patches of strawberries, raspberries and many potatoes. Hay was grown for two cows, some calves and three horses.  The remainder of the land was in wheat for flour.  Mother helped with all this work.  She enjoyed pleasant surroundings so she planted shrubs, flowers and grass to beautify her home.  Several times the newspapers carried pictures and a write-up about her lovely lily gardens.
Mother was a Relief Society Visiting Teacher and attended Relief Society and Sacrament Meetings until she was past ninety years old.  She was also an active member of the Twin Peaks Camp of the Utah Pioneers. She has never held any other position in the Church but she was always ready to take over so her family could always do the things they were asked to do in the ward and stake.  She carried on while Father filled a three-year Home Mission in the Stake.  He was Superintendent of the Y.M.M.I.A. for many years and a teacher in Sunday School Theology Class for twenty-seven years.  Missions were also filled by Reuben to New Zealand, William to Germany, Albert to the Eastern States, Margaret to the Central States, Elizabeth to the Central  States and Jay to the Southern States.
Father died December 5, 1925.  Mother lived on in her home and kept up her orchard and gardens.  Margaret lived with mother and worked in Salt Lake City.  During this time she filled a second mission, this time to the Eastern States for eighteen months.
In 1931, Margaret married John wells of the Presiding Bishopric of the Church.  Then mother was alone for the next sixteen years, but Oliver and I lived through the field on 23rd East, and Oliver did much to help mother.  In these years she had some serious mishaps.  She fell from a ladder when she was picking fruit.  No bones were broken, but she was badly bruised and some muscles strained.  One night she got up in the night to get a drink of water and broke her toe on a chair she had left a little out of place.  This was very painful and took a long time to heal.
Mother always went to the cemetery to put some of her lovely flowers on Father's grave, whenever any of her children could take her.  Ethel and Parley were taking her one time and when crossing a culvert on Hugo Street, she was thrown up in the back seat of the car in such a way that her neck was broken. For three months she had to sit up night and day, with her neck and head in a cast.  Ethel came and took care of her.  She recovered and seemed to have no trouble with it afterward.
When Jay and Geneve lived in California, they invited mother to come and visit them for a while.  There she had an accident to her knee.  When she stooped over to pick up a bucket of water, a pain came into her knee, so they took her to a doctor. He said the fluid in the knee joint was escaping.  She had to sit with her limb supported for some time and then had to wear an elastic knee covering for years.  We had taken care of her place while she was at Jay's.  A few weeks after she returned, she stooped over to put the lawn sprinkler in a new place and the same thing happened to her other knee.  So, for years she had to wear elastic coverings on both her knees.
Oliver remodeled her downstairs rooms to make two apartments. She rented the north and lived in the south apartment.  When she was ninety-two years old she went to Jerome, Idaho, alone to visit Will and his family.  While there she had a stroke that took her sight. Will then brought her home and stayed with her for a week.  When he had to return home, we thought it best that she not live alone anymore.  She went to live with Margaret who was then a widow.  She was there about five years.  Margaret worked three days each week at the Temple.  Others of the family took turns staying with mother on these three days.  Mother learned to make her way around Margaret's home, and although blind she could bathe, dress and feed herself without help.  Her health was good and she was cheerful and good company.  She enjoyed having her family and friends visit her.  She was always eager to know what was going on among the people she knew.  She liked to listen to the radio and enjoyed records from the Blind Center.  If someone could take time to read to her she was happy and she especially enjoyed the evening paper.
When she was ninety-seven years old she had some more strokes that made her more dependent on us to bathe and dress her, and she found it more difficult to talk.  Sometimes her memory left her and she was quite confused.  Margaret and I then took turns caring for her.  Oliver and I would take her to Margaret's for two weeks; then go and get her and have her with us for two weeks. In September 1955, Margaret fell and had a concussion, so I had mother with me until April 1956.  In late January 1956, she had a severe stroke that left her limbs helpless.  From then on she had to be lifted and fed.  Margaret took her turns that summer.  Bert and Virginia took her for part of a week and Jay and Geneve had her about ten days while Margaret and I got the apple crop picked. From then on mother was with me until just before Christmas.  We took her to Margaret's as she was alone and we had some of our family to spend Christmas with us. While at Margaret's she got a terrible cough, so we brought her back to our home on New Year's Day.  On the 4th of January she had another severe stroke, which paralyzed her throat, so I could feed her but a few drops of liquid at a time.  During all the months of helplessness, there was never a hint of complaint from her.  There was always a look of appreciation and cheerfulness.
Mother had a sense of humor for one so aged.  When she was past ninety-seven the doctor advised me to not give her salt in her food.  She spoke right up and said, "Doctor, I would rather have the salt and die young."  Her acceptance of life as it came did much to sustain her to the end. Oliver was the kindest of men to help me lift her and care for her when he was at home.  In the night when she called, he would always get up too, to see if he could help.
On January 7, 1957, she passed away at 1:30 P.M.  I was alone with her at the time.  She coughed a number of times and I raised her up each time and wiped her mouth.  The last time I raised her up she died while I held her in my arms. While we were sad at her passing, we all knew it was a release for her.  She had lived long and well, and set us a good example we can be proud to follow.  She was the oldest of her father's family, had survived all but two of them.  She had survived her three oldest sons; Joseph died in 1943, aged 63 years, William in 1948 at 66 years, Reuben in 1953 at 74 years.
Her funeral was held January 11, 1957, in the Holladay First Ward Chapel.  It was a large gathering of family, relatives and friends.  The floral tributes were many and beautiful.  The service was simple and inspiring.  The songs were by the Ward Relief Society Singing mothers, and duets by Brother and Sister Stewart McMaster. Elder Harold B. Lee of the Council of the Twelve had been asked to speak, and when Elder Henry D. Moyle, also of the Council and our former Stake President, came to pay his respect to our family, Elder Lee said he would like to share his time with President Moyle.  We were doubly blessed to have two of the Church Authorities pay tribute to our father and mother.  President G. Carlos Smith, Bishop James E. Moss, and President Wayne Prince also took part in the services.  Bishop J. Richard Ross conducted the services.
The grandsons, Ross and Rowan Hutchinson, Parley Eccles, Jr., William A. Newman, Jay C. Newman, Jr., and LeRoi Shaw carried the casket to its resting place beside Father.  Wayne Shaw dedicated the grave.  We placed a stone like Father's at the head and a vase for flowers between them.