History of Thomas Samuel Newman
Typed June 2005, by Adele Newman Knudson
from an original copy written by one of his children in 1967.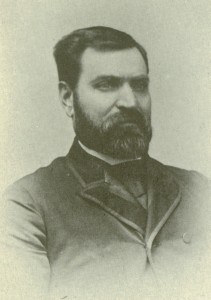 Thomas Samuel Newman was the youngest in a family of six children: John, Ann Elizabeth, William Hughes, Joseph Partridge, James and Thomas Samuel. [A child, Samuel, died in infancy.] His father was Joseph Newman and his mother, Elizabeth Hughes. He was born May 8, 1852 at Willenhall, Staffordshire, England. He was one year old the day the family landed in the United States on May 8, 1853, on their way to Utah.
When he was a boy, he had blue eyes and light brown hair like his mother. Joseph, William and James had blue eyes and red hair. John was dark like his father. Ann had blue eyes and light brown hair. As Thomas grew older, his hair was darker and was black until he was past seventy years. His beard and the hair on the sides then began to turn gray. He was about five feet six inches tall and rather squarely built like his father.
When the Newman family arrived in Salt Lake City, Joseph Newman purchased a piece of land near the mouth of Big Cottonwood Canyon on the County Road, now Holladay Boulevard. Thomas spent his boyhood there herding cows, hauling in the winter's supply of firewood, and helping with the garden. The older boys hunted game in the canyons and caught fish in the Big Cottonwood Creek. Deer, sage hens, pheasants, and quail were quite plentiful then. When he grew older, Thomas hauled logs from the canyons for building houses and hauled ore from the mines to the Murray Smelters.
On May 14, 1877, he married Caroline Mariah Wayman, the daughter of Emmanuel and Margaret Wayman. They had eleven children: Reuben Samuel, Joseph Emmanuel, Thomas William, Albert James, Robert Howell, Elizabeth Mariah, Margaret Ann, Ethel Cecelia, Florence and Gertrude (twins who died at birth), and Jay Clarence.
Thomas and Caroline were married in the LDS Church Historian's Office, but in 1887 they took their five boys to the Logan Temple and were there sealed for eternity. Thomas owned fifty acres of land on the County Road. The north half of the land his father had purchased, and James owned the 50 acres on the south, next to 62nd South. Together, they made enough adobe from the clay on the land to build a three-room house for each of them. In a few years Thomas added a porch on the front of his house and a kitchen and pantry on the back.
Thomas became a successful farmer and was so prospered that he was able to buy twenty acres of land on 23rd East north of 45th South and also eight and a half acres south of 45th South between 23rd East and Holladay Boulevard. On his land he built a new red brick house in 1901-1902. This house had five rooms downstairs and bedrooms upstairs. He surrounded the house with a cherry orchard and some English walnut trees. He had brought the walnut trees from England when he came home from his mission to England 1896-1898.
Opportunity for an education was limited, but he had learned to read and write and he was always interested in education for his children, and took pleasure in providing ways and means, and encouraged all his children to obtain as much education as possible. For years he served as school trustee for the 28th District School and was a leader in helping to consolidate the Salt Lake County Schools into the Granite School District. Another of his interests for the betterment of the community was irrigation. He helped to organize and work out the details of the irrigation system and was a director of the Upper Canal Irrigation System from it's beginning.
During the years, Thomas became a student of the Bible and the other Standard Works of the Church, and served as teacher of the Sunday School Theology Class for twenty-seven years, and as Superintendent of the Young Men's Mutual Improvement Association (YMMIA) and as teacher in the Priesthood Quorums for many years. Besides his mission to England, he served three years as a Cottonwood Stake Home Missionary.
When Thomas was a young man, he bought a violin from an old prospector in the canyons. This he learned to play very well, but did not learn to read music. When his day's work was done, he would play for the family an hour or more in the evenings-jig tunes, waltzes, quadrilles, folk songs, and hymns we all learned to enjoy and love.
In political affairs, Thomas identified himself with the Democratic Party, but he never held nor sought any public office. He was a kind man and worked hard to provide for his family and to make it possible for them to fill missions when they were called and for education. Thomas and his sons and daughters have filled ten missions. As of 1967, his descendants have served thirty-five missions. This does not include home missions. His three-year Home Mission was filled as humbly and faithfully as his foreign mission, and many homes in the Stake bless him for his teaching and encouragement.
When he was hunting, he climbed over a wire fence carrying a loaded rifle, which discharged, gauging a furrow through the flesh on his left side under his arm. His son, Joseph, saw the accident and ran to his assistance and brought him home. It took months for the wound to heal, but it did not trouble him after.
In October of 1925, he lifted the hay rack off the wagon and was not well after. He was ill for weeks and passed away at 73 years old on December 5, 1925, at his home in Holladay. His family was all with him at his passing. His neighbors and friends all mourned his loss because of his example of right living, friendship and neighborliness. He was buried in the Holladay Cemetery.