History of Louise Bertha Kümmerli Urech
History of my mother, written by Bertha Maria Urech Newman, 1953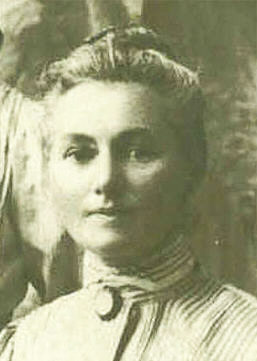 Louise Bertha Kümmerli, born 24 October 1868 in Kölliken, Aargau, Switzerland, and died 5 September 1952 in Basel, Baselstaat, Switzerland. Her father, Fredrick Samuel Bernhard Kümmerli, was born 10 August 1835 in Zofingen, Aargau, Switzerland and died 14 June 1875 in Kölliken, Aargau, Switzerland. He died in a sawmill accident.
Louise's mother, Anna Maria Basler Kümmerli was born 5 December 1838 in Kölliken, Aargau, Switzerland and died 3 November 1909 in Oberkulm, Aargau, Switzerland. When Grandfather Kümmerli died and left Grandmother with six small children, the relatives stepped in and advised that she let some of the children be reared for a time among the family. And so my mother, at six years of age, was taken by an aunt to Zofingen, Aargau, Switzerland—Aunt Maria Basler Lüthy. The family owned one of the large restaurants in Zofingen, so my mother was required to help with some of the household duties. After four years, Grandmother married again a man by the name of Rudy Huber and one child, a daughter Ida, was born to the union.
Some of the children were again with their mother, but my mother grew up among relatives until she was old enough to work for her own livelihood. She accepted a position as maid to a wealthy family and stayed with them when they moved onto a big estate in a small community in Muttenz, Baselland, where she met my father. After a courtship, they were married on the first of August 1888 in Muttenz, where they made their home. Father and Mother were the proprietors of a merchandise store and they both worked together until my father decided to take an examination for the position on the police force. He successfully passed the requirements and plans were made to move to the city of Basel where he was stationed. When they moved, one child had come to their union and a second one was born shortly after.
The city life was new to Mother, passing up some of the rural life she had known. The family was finally stationed in Klein-Basel [small Basel] where Father became Police Sergeant and there the children grew up–eight daughters and one son, two sons having died in infancy.
In the year 1902 Mother, with a friend, attended a meeting of the Church of Jesus Christ of Latter-day Saints (known as Mormons). She enjoyed the Gospel that was revealed and thought seriously about it. After much considering, she finally had the light to want to become a member and expressed her desire to Father, he having often in his capacity listened outside the meeting place to the discourses of the Gospel and gave his consent for the ordinance of baptism. Mother was baptized on the 26th of March 1903 and became a member of said Church. She also took the children to Sunday School and the whole family participated in the friendly atmosphere of that church group.
The Missionaries were frequent visitors in our home and the children enjoyed catching here and there to learn a word of the English language, such as the song "Love at Home." No labor was too much for my mother to serve these missionaries with food or washing or sewing, making them feel at home away from home. Holidays were festive days with plenty of activities. When her oldest daughter (Bertha) at nineteen years of age decided to join the Saints in Zion, and emigrate to America, Mother having learned about the wonderful principles of the Gospel, she truly helped all she could to see to the welfare for her children in the future. And so in February 1909 she bid farewell to her child, with the hope that others might follow soon.
This daughter, Bertha Maria Urech, arrived in Salt Lake City, Utah, on March 18, 1909, and in September of the same year she was married to Thomas William Newman. In the year 1912 another child, Martha, joined her sister Bertha in America. Father's declining health was a sadness for mother and he passed away in May 1925 and was buried in Basel, Switzerland.  After a time of mourning, Mother expressed her desire to emigrate to the United States with the thought in mind of establishing a home and perhaps make it possible for her other children to come to America. She had passed through the trying years of warfare, had worked—helpful in the aiding of refugees—and for two years had two small children to be mother to, until the state found suitable relatives to care for them. She was active in Red Cross work and her daughter, Clara, was a nurse all during the war. She could give a vivid description of the war fires and the hours spent in underground shelters and of the sight of seeing maimed and wounded brought over the borders for first aid. Her earnest desire to come to the states was only for the betterment of the family. She had been a faithful worker in the Church and finally decided to take the step, having behind her two daughters—Paula Urech Abegglen and Olga Urech, single, and the only son, Alfred, who could not come with her because of military service (he was still in the service.)
Mother arrived in America, Salt Lake City, on the cold winter day in 1928 and went to Idaho Falls to her daughter, Clara [Clara had immigrated in 1919]. After a resting period, she took the train to Shoshone, Idaho, where we were to meet her in the late afternoon. All the family had made preparations for a hearty welcome, but during the afternoon a severe snowstorm blocked the roads between Jerome and Shoshone and we were unable to meet the train. The disappointment was really saddening, but after composure, we telephoned to one of our friends who lived in Shoshone, Brother and Sister William Hart, and they accepted the request to meet the train and take care of Mother, which they did and I shall always be grateful to them.
The county agent in Shoshone who could speak her language was kind and explained to her the situation. The next day they put her on the train to Bliss and rerouted to Jerome. She arrived at 11:00 am and we were there to meet her with a sleigh and to take her home to meet her grandchildren who all were anxiously looking down the road for the arrival. After two weeks of pleasant reminiscence of childhood days and life's joys and sorrows shared, my sister Clara was expecting her first child and Mother went back to Idaho Falls where she stayed with Clara until springtime. From there she returned to Salt Lake City to visit with another daughter, Alice. After an acquaintance with some friends, she met an invalid woman whose husband desired that she become a daytime companion to his wife. She accepted the position and stayed with this family for three years, when the wife passed away. She continued on for a short time and when she received word that her son could not get a visa to come to the USA because of a heart ailment, Mother immediately got homesick and began to make preparations to return to Switzerland. She had made her application for U.S. citizenship and had received her first papers, but nothing could keep her now and she left unexpectedly soon for her homeland.
Two months later her only son died of a heart attack at his sister Paula Abbeglen's home in Zurich, Switzerland, where he was also buried. Friends and loved ones were good to Mother and many offered her the very pieces of furniture she sold to them when she departed. She once more set up housekeeping and my single sister, Olga, lived with her. She had lived through the first World War and now was facing the second one. Having over used both of her visas, she was now without a country to claim her.
After four years in Switzerland, she once more was reinstated with her citizenship and desired to live there for the time granted. She made herself useful by working diligently in the service of the Red Cross and many experiences were told by her serving in the bomb shelters and comforting children in need. She was good in knitting socks, sweaters and other useful articles to keep the soldier boys warmly clothed. Her declining years were only marred by the weakening eyes and after an examination for correction, which proved to show that the left eye had a cataract, she submitted to an operation and after recovery she continued her favorite pastime—knitting. In the year 1949, her oldest daughter, Bertha, after the death of her husband, was called to the Swiss-Austrian mission to labor as a missionary and during that time she was permitted to visit with her mother and sisters quite often as time permitted. And there, a closely guarded family re-acquaintance was indulged. The homeland of Mother was dear to her, but when in moments of discussion, she would often say if it had not been for the children which were left behind, she knew she should have stayed in America. The language barrier was also a problem for her. And so she spent her declining years living in the same house with her daughter, Olga, who took care of her until she needed medical attention and was admitted to the hospital where she passed away. This was just across the street from her home, where she watched so many days seeing loved ones coming and going to visit their kindred, buying a little bouquet of flowers to cheer them. She would say, "some day someone will come to see me." And this she had the joy of being granted.
President and Sister Bringhurst called on her and she rejoiced over their visits. When she passed away in her sleep, on the 5th of September 1952, Sister Bringhurst and Olga layed her away with the kindness that was to have been my wish and she was buried in Basel (Harnly Cemetery), Switzerland, on the 8th of September 1952. Mother loved her Church and had a firm testimony of the restored Gospel and was ever grateful for the message of the missionaries. She made the acquaintance of many of the Presiding Brethren who visited the mission, having been caretaker of the mission home for a number of years.
President Joseph F. Smith, Heber J. Grant, David O. McKay and many others spoke kindly of her unselfish service. President Thomas E. McKay and family, as mission presidents, made our home the resting place when weary, and a door was always open for them. In a visit to the Blain Stake Conference, President McKay related to me the testimony he received in giving Mother a blessing, saying that he was prompted to tell her she would recover when he himself could see her life coming almost to a close. He told me that he went to the Lord in prayer for forgiveness of the promise made, that His will may be done, and that he was witness to a prayer granted and the manifestation of the Priesthood.
Although I have never been closely with my family since I had left when I was nineteen years old, I am deeply grateful for a good mother who had her children's welfare at heart—especially where the Gospel was concerned.
Typed June 2005 by Adele Newman Knudson from a copy written by Bertha Maria Urech Newman