Disneyland 2010–Yea!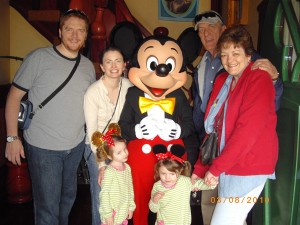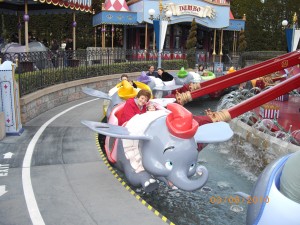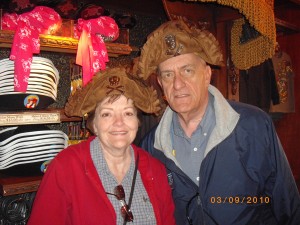 Steve and I got to go to Disneyland. I love Disneyland! I love the rides and all the fun things to see and do there. I love to go through the shops and look at all the stuff, try on the hats, and even buy stuff. But not too often. It's way expensive. And I love to just sit and watch the people.
We were invited by Matthew and Natalie to accompany them as they took their two little girls to see Disneyland for the first time. I had always told my sons that I'd sure like to go along when they took their kids to see the Magic Kingdom. Curtis and Kelly had been to Disney World with Katelyn when they went to Florida to visit her parents. But Matthew and Natalie hadn't yet taken their girls. So Steve and I went along. Steve isn't so much in to the rides as I am, but he is such a good sport to go along anyway. We had the 3-day park hopper passes and we opened and closed the park for three days. We did Disneyland and California Adventure–lots of walking. At the end of each day we were pretty tired and slept very well each night.
Natalie and I got to go on a few of the rides together that we both really love and that the guys didn't care to go on. We went on the  Space Mountain, Tower of Terror, the California Screamin' roller coaster , and the Soarin' Over California rides. Space Mountain used to be my favorite ride, but now California Screamin' is my favorite. Just wish it went a little longer. We all tried to get in as many of the rides as possible, and I think we were pretty successful. It was so fun–I can't wait to go again.